Italy Espresso is our company's flagship: it was realized by reproducing a blend dating back to the last century, dosed and roasted according to an ancient recipe learned from an ancestor.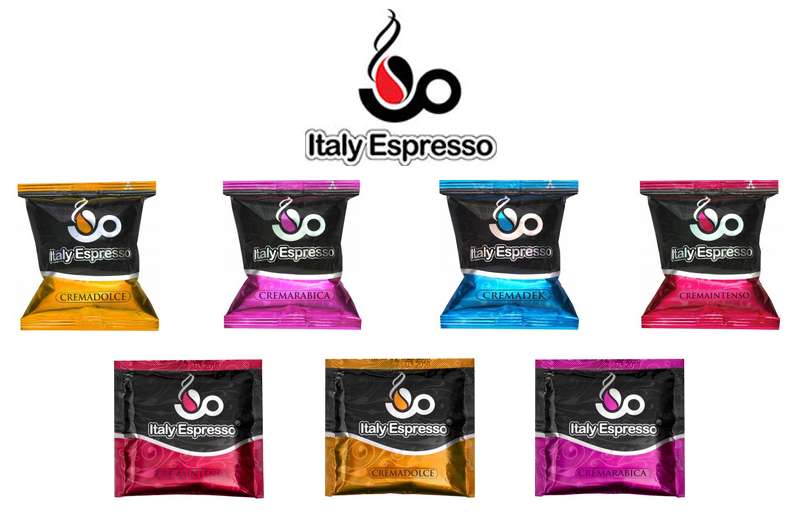 Italy Espresso is produced by one of the best italian coffee roasting company: it's the result of years of research in the coffee field and organolectic and flavour tests. Our coffee is made of experience and love, and it's a trade mark.
Here you can find Italy Espresso pods and capsules in 4 different flavour typologies: our coffee satisfies all the palates.
Italy Espresso Cremarabica: it's the perfect coffee for those who want to delight their palate and recharge their battery any point in time, for breakfast or for a break, from morning till night;
Italy Espresso Cremadolce: a creamy and velvety coffee, with savory aromatic nuances, for a coffee as good as that of the bar; delight your palate and smell any point in time with this little deliciousness; you have to choose Cremadolce if you like a vigorous and
creamy coffee;
Italy Espresso Cremaintenso: the most intoxicating coffee blend with all the characteristics of the Arabica and Robusta grains, for a real espresso like the old tradition wants;
Italy Espresso Cremadek: Cremadek is a decaffeinated coffee, but it seems like a real espresso: the same creamy body and the same magnificient taste, for a little moment of pleasure.
Our proposals are reserved to retailers and coffee shop owner, or for those who have a traditional shop (foodstuffs, for ex.) and want to increase their sales with a coffee display, a coffee corner or a specific shelf.
Here you can find this richness at the best price: let yourself be captivated from Italyespresso!
Do you need more information about our offer? Do you want to buy Italyespresso pods and capsules on wholesale? Get in touch with us!
Call us at +39 0733288455 from Monday to Friday from 8:00 a.m. to 6:30 p.m., on Saturday too from 8:30 to 12:30 a.m.
Or
Click here and send us an e-mail. We will answer you in 24-hours.

News from the