The Didiesse coffee machine is able to make a real goodness in a simple cup, and it continues to receive more and more appreciation from the consumers. There are several reasons that drive people to buy them: a good price, an optimal brewing, low maintenance and finally a lot of publicity.
One more reason to have them available in every retail coffee stores, in the knowledge that your customers will be well satisfied with their purchase.
In many cases buying in bulk the Didiesse coffee machines is almost equivalent to certain sales, just because people to request this specific brand.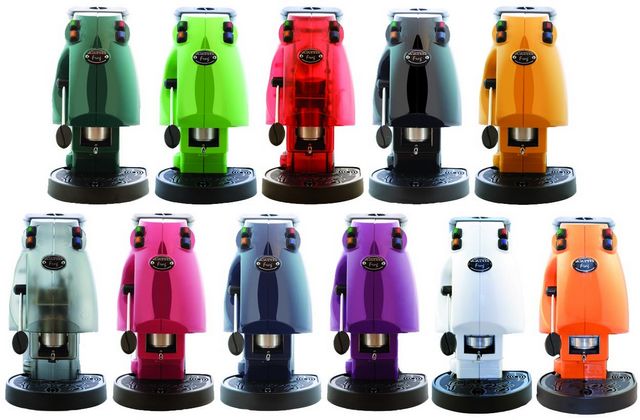 In particular the Frog model is absolutely the most sold and it's available in the basic version or in the version with vaporizer (respectively called Frog Revolution manual and Frog Vapor).
In reality there's nothing new about the fact that the so-called Frog machine (they call it that) is the most sought-after in the coffee stores, not only for domestic use but also in the offices.
Since it was advertised on television in the very popular afternoon television broadcast anchored by Maria De Filippi (Uomini e Donne), the sales have multiplied.
The combination was perfect: caffè Borbone and Didiesse Frog coffee machine, an unrparalleled combination.
The housewives who didn't know these products went literally crazy over this new object of desire.
Even the most wary of abandoning the classic mocha have become convinced to buy it, perhaps after watching for days the columnist Tina Cipollari that found (and finds!) good every opportunity to make coffee in the studio, savoring it or offering this delicacy to some studio guest.
It's not all because of advertising: the Frog machine is really a small jewel of technology, entirely manufactured in Italy (is no small thing).
Considering that this coffee machine has been designed and conceived specifically on the Caffè Borbone blends, this explains why even those who had never enjoyed coffee with the electric machine was happy to change his mind.
Obviously the reasons that should induce retailers to have always available the Didiesse Frog coffee machine and Borbone pods are not finished here: the appliances and the ground coffee of that brand are cheap, customers are satisfied, and certainly they'll become habitual helping you to increase sales volume.
Add the fact that the frog machine is available in a wide range of colors and varied, therefore it fits in well with any kind of furniture.
Finally the Caffè Borbone pods are available in different flavors to satisfy even the most discerning palates.
Are you searching for a Didiesse Frog and Caffè Borbone wholesale retailer with the best prices? You've come to the right place.
Find out all our offers and take advantage of our pre and post sales 360 degrees support.
Call us at +61 0420904564, from Monday to Friday from 8.00 a.m. to 6.30 p.m., on Saturday from 8.30 to 12.30 a.m.
We will be glad to give you all the info you need no strings attached and send you our wholesale price list.
Or
Click here and send us an e-mail. We will answer you in 24 hours.

Read also 
Are you opening or renovating a bar or cafe? This short guide can be useful for you, to make sure you have accounted for all the essential aspects for your business. In a bar, in fact, there are not only coffee machines and mixtures! There are also a lot of accessories and tools, entertainment and […]

Do you want to open a bar? In this short guide you will find useful information to start your business on the right foot! Our key words are high quality equipment, entrepreunership, creativity and awareness. How to open a bar: the financial aspect Have you ever wondered what is one of the most under-appreciated aspects […]

Choosing a good coffee for your bar or your business is indispensable. The quality of the coffee you serve must be high: if the clients don't like your coffee, they will not come back in your bar. But an high-quality coffee costs more: how can you optimize the running costs? First, you have to consider […]