This company starts its production in 1945: with its reliable coffee machines, Faema is famous not only for the efficienty of its coffee machines, but also for the innovative technology, a particular and modern design and for the professionality of its after-sales services.
This mark is synonymous with elegance and excellent results: many bartenders won't change their Faema coffee machine for anything in the world.
The available models are the following: Emblema R, Teorema, Enova, E61, E91 Ambassador SE; let's see them in detail.
Faema Emblema R coffee machine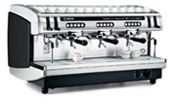 This coffee machine is available in the automatic and semiautomatic version with two, three or four groups (Auto Steam Milk4 A, A and S). It's equipped with a state-of-the-art connection system with all the different compatible devices. The boiler is provided with the Smart Boiler system, and it's able to guarantee a daily energy saving of 21% by not dispersing heat. The thermic balance is adjustable through a specific patented system. It's equipped with a steam wand and a normal one. The auto steam milk4 version is equipped with a particular accessory to warm and froth milk easily, with 4 different programmable milk recipes. The display allows you to enter short programmable texts through USB, and the lighting brings to this high-quality coffee machine a particular brillance.
Faema Teorema coffee machine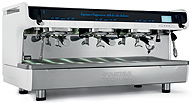 Faema Teorema is an automatic coffee machine, and it's available with two or three groups. It's provided with an advanced technology that allows coffee and hot water to be easily dosed. It's equipped with two steam wands: the Smart Boiler, for the hot water, allows you to save energy by isolating the boiler. Faema provides all its coffee machines with a wi-fii and bluetooth technology and the USB port.
Faema Enova coffee machine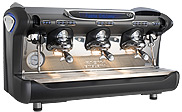 Faema Enova is available in the automatic (A) or in the semi-automatic (S) version, with 2 or 3 groups. Faema ensures an high-technology performance for all its coffee machines: it ensures a very high level, an easy programming, a patented thermic balance system, 2 steam wands, different buttons for all its functions. It's available in red or silver that, with the steel, make this coffee machine a magnificent complement furniture.
Faema E16 Coffee Machine

Faema E16 is available in the Jubilé A version (automatic) or in the Legend S version (semi-automatic), with one, two or three groups. With a 60-year history, the first model of this coffee machine was drafted in 1961; despite so many years have passed
this coffee machine is very topical: it's a modern model with all the particular characteristics from previous versions.
Ambassador SE coffee machine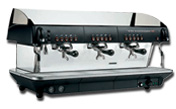 The E91 Ambassador SE is available in the automatic version (A or Auto Strem A) and semiautomatic (S), with two or three groups. It has the same characteristics of the other models with the Giugiaro's signature; it was designed in 1991 and it's one of the biggest Faema's success. Its classical design allows this machine to be a perfect complement furniture..
Ar you searching for a Faema professional coffee machine for your bar or your business?
Call Us at +61 0420904564 from Monday to Friday, from 8:00 a.m. to 6:30 p.m., on Saturday too from 8:30 to 12:30 a.m.. Always the best solution, at the best price.
Or
Click here and send us an e-mail. We will answer you in 24-hours.
News from