This is a legendary company active in the production of machines for coffee and cappuccino since 1912. Nowadays is one of the most well-known and innovative company in the coffee sector, with pilars as strong passion and only high-quality products.
With its headquarters in Binasco, near Milan, La Cimbali has 70% of its production to over 100 different countries and it can boast a wide distribution network and pre and post sales support.
Knowing that the world is in flux, knowing that people, their lifestyles and their consumption are constantly changing, La Cimbali is working costantly to propose the best solution to meet the market demands.
La Cimbali produces different kinds of coffee machines: the full size traditional models are: M100, M39 TE, TE M39 White Lady, M34, M24 (also available in a compact version).
La Cimbali M100 coffee machine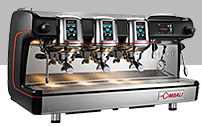 La Cimbali M100 is available in 4 different versions: HD Turbosteam Milk4, Dosatron Turbosteam milk4, Dosatron and HD. This coffee machine is an high-technology concentrate, and it's able to communicate wirelessly with the coffee grinders and to report all the changes
in the grind and dose, it's environmentally friendly and energy efficient with its isolated coffee groups. It's equipped with 2 normal steam wand and a wand for dispensing hot water with different temperatures and doses.
This magnificent espresso machine has a ultra modern and high-tech design.
La Cimbali M39 TE coffee machine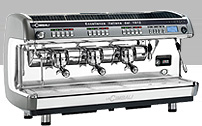 La Cimbali M39 TE coffee machine is available in 3 versions: Classic, Dosatron and Dosatron Turbosteam Milk4. It's equipped with a wand for the hot water and knobs for the steam activation for a very practical use and ergonomy. The entire body is made of Titanium Silver.
La Cimbali M39 TE is a great coffee machine and it's able to give value to the room in which it's placed.
La Cimbali M39 White Lady TE coffee machine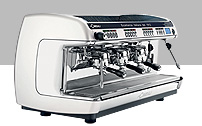 The M39 White Lady TE coffee machine it's only available in the automatic version. It's able to support technologies such as wi-fii and bluetooth, in order to communicate quickly with all the other associated devices. It's equipped with the Smart Boiler system, its boiler it's able to reduce the heat dispersion saving about 23% of energy per day. It's equipped with a classic wand another wand for the hot water; the turbosteam milk4 allows this coffee machine to heat and froth milk automatically. Ergonomic and convenient, it's easy to use; it has a USB port for transfering all the dates through a standard USB key. The white color of the stainless steel body give a further added value to this beautiful La Cimbali jewel.
La Cimbali M34 coffee machine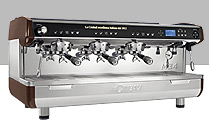 La Cimbali M34 is available in the selectron and selectron turbosteam milk4 version. Its internal processor allows an easy programming of the hot water and coffee. It's equipped with the Smart System for the boiler in order to save heat up to 24% per day.
It has two wades: one for the steam and one for the hot water, a easy to use technological panel and the ability to connect via wi-fii or bluetooth with other devices; Finally there is the USB port for a fast data transfer. Its appearance with the brownish finish makes this coffee machine ideal for any bar that wants to impress all the clients.
La Cimbali M24 coffee machine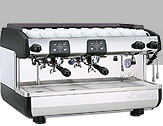 La Cimbali M24 is a semi-automatic coffee machine perfect for an high-level use, and it's available in two different versions: Premium and Plus. The panel is fitted with electromechanical keys and there are also two wands made of stainless steel.
The knobs for the activation of the steam are useful and practical. There is also an electric cup warmer. The stainless steel body is painted black, with a pleasing appearance, thanks to its minimalist design and very light and delicate lines.
Are you searching for La Cimbali professional coffee machine for your bar or your business?
Call us at +39 0733288455 from Monday to Friday from 8:00 a.m. to 6:30 p.m., on Saturday too from 8:30 to 12:30 a.m.. Always the best solution, at the best price.
Or
Click here and send us an e-mail. We'll answer you in 24hours.
News from: