La Marzocco was founded in 1927, in Tuscany, from the Bambi's brothers, and it's one of the leading company in this sector thanks to the care with which it realizes every single coffee machine. It boasts the first patent regarding machines with horizontal boiler, and this only one of a long series of innovations La Marzocco brought in the coffee sector. The tradition, the constant pursuit, the quality and high reliability are the main pillars of this now famous company around the world.
La Marzocco provides a lot of different kinds of professional coffee machines: Strada MP, Strada EP, Strada EE, Linea PB, FB/80, Linea Classic, GB/5, FB/70, GS/3; let's see all of them in detail.
La Marzocco Strada MP coffee machine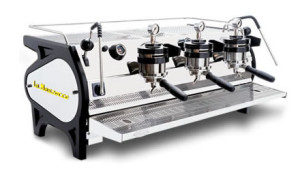 The Strada MP model has a mechanical control technology which regularises the water flow and pressure through an internal valve that allows you to better manage the pre-infusion. The design is very clean and straightforward, with no frills; with a La Marzocco coffee machine your costumer will surely come back for more.
La Marzocco Strada EP coffee machine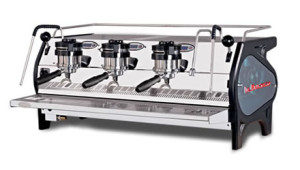 La Marzocco Strada EP coffee machine is the version with an electronically controlled technology, the gear pumps are controlled electronically so you'll obtain an accurate pressure control. The coffee machine is able to store the pressure profiles: they can be programmed and repeated. La Marzocco Strada EP is configured as a lever machine; the design is very basic but the internal engine is noteworthy.
La Marzocco Strada EE coffee machine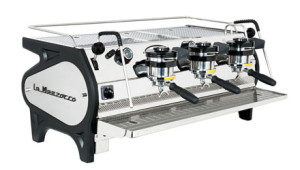 La Marzocco Strada EE is the version with the semi-automatic technology and it completes the Strada serie. It's very easy to use and it'is characterized by a very simple start / stop system. The line is the same of the Strada serie, very minimalistic but high-performing.
La Marzocco Linea PB coffee machine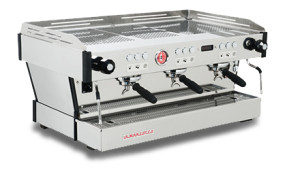 The PB line, in honor of Piero Bambi, can be considered a "La Marzocco Classic" revisited in the functional characteristics and design too. It's equipped with a very intuitive interface which allows the bartender to check the boiler temperature, the coffee brewing volume,
the hot water tap dose and other functions in a very fast way. Compared with the classic line, the work area has been extended but inside beats always a 100% Italian heart that makes La Marzocco famous all over the world.
La Marzocco Linea FB/80 coffee machine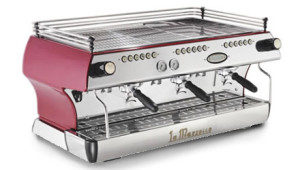 La Marzocco Linea FB/80 is a coffee machine designed to celebrate 80 years of business activity. It's a machine designed for locations where the coffee quality and design have the same weight. Within itself it has a high technology with particular attention to details; with this coffee machine La Marzocco has tried, and succeed, to better express the quality acquired in 80 years of presence in this sector.
La Marzocco Linea Classic coffee machine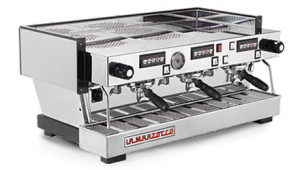 La Marzocco Linea Classic is an icon in this sector: it boasts numerous imitation and unprecedented fame. It's an ideal coffee machine for all those who must make intensive use, the best tool for all those clubs, bars or restaurants that make thick volumes. Surely at least once in your life you may have seen this machine, as this is a model that for a long time has literally depopulated in the field.
La Marzocco GB/5 coffee machine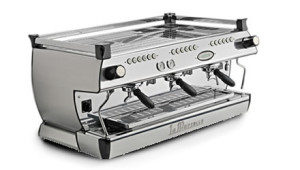 La Marzocco GB/5 model was dedicated to Joan Bambi, and it's an ideal coffee machine for all the classic and elegant bars, with a very harmonious design which in combination with the powerful technological innovation makes it a machine perfect for each café. Thanks to its thermal stability this coffee machine is able to guarantee a perfect delivery of water and steam at any time of the day, particularly during peak hours.
La Marzocco FB/70 coffee machine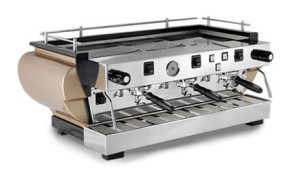 La Marzocco FB/70 coffee machine was created to celebrate the 70th anniversary of La Marzocco FB machine / 70 has an elegant shape, curve and well refined in detail, is a mix between performance and sophistication, without forgetting that inside moves a system capable of creating a good coffee in a
very simple and fast.
Are you searching for a La Marzocco professional coffee machine for your bar or your business?
Call Us at +61 0420904564 from Monday to Friday, from 8:00 a.m. to 6:30 p.m., on Saturday too from 8:30 to 12:30 a.m.. Always the best solution, at the best price.
Or
Click here and send us an e-mail. We will answer you in 24-hours.