The Spinel company is an idea of the Spinelli brothers, entrepreneurs in this sector that can boast a great experience in the production of espresso machines and vending machines. Born in the early 60's, it's specialized in making pods and capsules coffee machines. The products made are of very high quality, it's reliable and able to dispense in a quick way an high quality coffee.
The coffee machines models Spinel provides, divided in pods and capsules, are: Jasmine, Rondo Luxmatic, Jessica, Mini Mini Lux and Mini Mini..
Spinel Jasmine coffee machine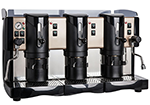 The model Jasmine is available in the versions with one, two or three groups and is fed to capsules. It's designed for the large consumption with a completely innovative design; it's not easy to find another coffee machines like this. It's equipped with coffee exchanger groups brass and boiler in stainless steel and can also produce steam and hot water. Being structured in modules, in case of failure of one of the groups the brewing is guaranteed. All controls are handy and make it easy to use. The
hydraulic system is self-cleaning thanks to a particular Spinel patent, which completely eliminates the biggest pitfall for every coffee machines: the limestone. It may also be configured with pods and capsules mixed groups depending on the choice of those who use it.
Spinel Rondò Luxmatic coffee machine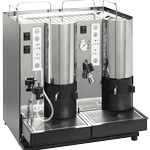 The Rondò Luxmatic works with capsules and it's equipped with two working groups. It's a guarantee of reliability, quality and resistance, with a series of innovative functions as the mechanical load and ejection system which allows an
easy insertion of the capsules, the automatic removal into a special container, the capsules compression system (another Spinel patent able to ensure an optimum pressure). The design has been completely revised, the bodywork is galvanized and avoids the formation of rust and degradation of the sheet. These are just some of the features that make the Rondò Luxmatic a high level coffee machine.
Spinel Jessica coffee machine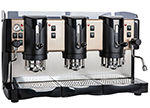 The Spinel Jessica is a pods espresso machine available with one, two, or three groups. You can configure the groups with pods and capsules according to the needs, or have a dedicated group for 14g double pods.
In this coffee machine you can find all the Spinel technologies: it's a real concentrate of innovation and reliability. The line is also very innovative and sophisticated, so we're not just talking about a practical and functional but also beautiful coffee machine.
Spinel Mini Mini Lux coffee machine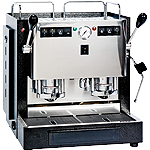 The Spinel Mini Mini Lux is a coffee machine with pods. It's an ideal and compact coffee machine for professionals who have limited space, but also for companies or individuals who want to obtain a perfect coffee. It's equipped with two brass groups, the pod holders.
The ignition is independent, the stainless steel boiler has a capacity of one liter, there is also a little railing for the coffee cups. It's equipped with a self-cleaning system which guarantees maximum efficiency. On request it's possible to integrate also a group for double dose 14g pods, dosing kit, cups warmer, milk frother.
Spinel Mini Mini coffee machine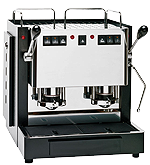 The Spinel Mini Mini is the basic version of the Mini Mini Lux, with the same carachteristics: it's a perfect and high-quality pods coffee machine, ideal for those who don't want to make large investments while ensuring the brewing of the best coffee.
It's a small wisdom of the Spinel highest technology and experience, compact and practical to use.